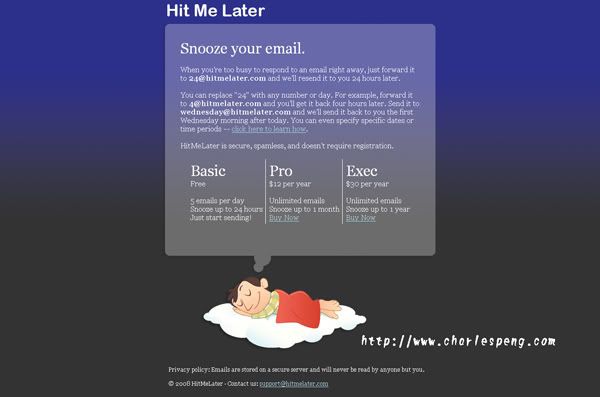 It has been a long time since I came back from Wang Sheng's lecture on how to enlarge your foreign tading business with userful and helpful online web 2.0 services, which make your foreign trading more easy and efficient. I promised to introduce some of these kinds of online web 2.0 sites to you, but I am sorry I was very busy in the past weeks. Today, I want to share a useful tool, versy useful if you are a foreign trading salesman as me. This tools is called Hitmelater, it helps you so that you will not miss your customers' importand emails…
Why Hitmelater?
How many emails you receive in the morning when you open your Windows Live Mail? (It's much convinent to send/recive your emails with a mail client, especially if you have several mailboxes). (There're so many other mail clients, such as Foxmail, Outlook, DreamMail, etc, but I prefer Microsoft's WLM a lot, as I use Windows Live Domains based company mailbox, it has a better support, here's a tutorial on how to setup a mailbox with your own domain name using Live Domains and send/receive mails using WLM for free on Charles' Chinese Blog.  :smile:)
Among all of these emails, which are important? Which are less prior? And do you have any experience some emails couldn't be replied immediately when you received it, you had to reply it later? In these cases, can you remember which email you havn't been replied? Or sometime, when you're too busy to respond to an email right away, how will you do? While with Hitmelater, you can easily solve this trouble.
How to use Hitmelater?
You now know why we need hitmalter, but how to use it? That's just a piece of cake.
When you recieve an email you don't want to reply immediately, or the email you can't be replied as you don't know how to reply (for example, you don't know prices), or you don't have time to reply. In order not to forget it (or you will lose an order),  just forward it to [email protected] and they'll resend it to you 24 hours later to remind you.
You can replace "24" with any number or day. For example, forward it to [email protected] and you'll get it back four hours later. Send it to [email protected] and we'll send it back to you the first Wednesday morning after today. You can even specify specific dates or time periods — click here to learn how.
Conclusion
HitMeLater is secure, spamless, and doesn't require registration.Its Basic plan is completely free, and you can forward to Hitmelater 5 emails per day Snooze up to 24 hours Just start sending, It's enough for you as a foreign trading staff, an email has to be replied as soon as possible to your customer.
With Hitmelater, you will not miss any of your important emails. This is a very good feature to make up mail client's shortages of "mark as read"/"mark as unread" fuction, as you can forwad an email to Hitmelater a hand's turn. 😀